Mail Manager Software Support
Mail Support Services was founded in 2001 to provide custom on-site training programs for new and existing Mail Manager Customers. By combining almost 25 years of software knowledge with a detailed understanding of the postal processes and requirements, we are able to offer a unique blend of educational and technical support resources for Mail Manager Software users around the country.
Over the years we have expanded our support services to include refresher training for new staff, training for sales staff to teach the basics of mailing, customized project development and integration, remote access data processing back up services and much more. Throughout our many years we have maintained our commitment to providing fast accurate solutions to mailing and software questions any time of the day or night.
Moving the mail has always been our top priority. Should there be an error, we first focus on getting the mail off the dock. Once you have met your deadline, we can then go back to figure out how the problem occurred and work toward developing a plan to prevent it from happening again.
Mail Manager Software Training
Mail Support Services provides customized on-site training program designed to get your staff processing mail lists quickly and efficiently. Whether it is cross over training from another mailing program, start up training for a new mailing operation, or refresher training to become familiar with new features of the program your staff will learn how to run mailing jobs from raw data to presorted output faster and more accurately than ever before. By providing training at your location, we can train on data and equipment that is more familiar to your employees.
Other benefits of bringing the training to you:
Some of Topics we Cover Include:
Click here for more information including pricing and availability
Direct Mail Marketing Consulting
At Mail Support Services, part our mission has been to educate our clients on the business of mailing. We believe that by teaching the methods and options of direct mail to our clients they will be able to provide better services to their customers and in turn become more profitable. That is why, for many years we have supported printers and mailers in the design and production of direct mail advertising for years.
In recent years, we have been approached by many small and mid size companies looking to learn how to implement a marketing strategy directly. These new clients either don't have the budget for a large marketing consulting firm or they have been intimidated by other firms due to their lack of knowledge. Have you heard any of the following "buzz" words or phrases and didn't know what they meant or how the affect you?
If so there is no reason to be confused or intimidated any longer. We are happy to bring our same philosophy of education and making better consumers to you. If you are a small to midsized company who is struggling to get new business or better results from your existing marketing strategy give us a call. We are happy to use our years of experience to help grow your business.
Microcom 438 Direct Thermal Printer
Begin printing Intelligent Mail container tags quickly and economically with the Microcom 438 direct thermal printer. Printing at up to 144 tray tags per minute, in a one up printing format means that you print just the tags you need with no scrap or waste. The 438 is built to be economically priced, without compromising performance or longevity. Microcom has minimized downtime by using moving parts sparingly and designing it for easy cleaning and quick access to wearable parts. The 438 desktop thermal printer is fully compatible with Mail Manager. Simply connect printer through USB or ethernet select the Traymate™ 4 print driver and start printing.
For tag-printing performance you can count on, look to the Microcom Model 438 thermal tag printer. This commercial-quality workhorse offers the optimal speed and dependability professional mailers demand. And while it's small footprint is ideal for any space-conscious mailing operation, its results can make a big difference to your bottom line.
The Model 424 is an industrial strength direct thermal tag printer offering 154 DPI resolution. This printer features a steel case to protect your investment from industrial conditions. With a small footprint of 4.75 in. by 8.5 in. by 6 in. and a total weight of 12 pounds.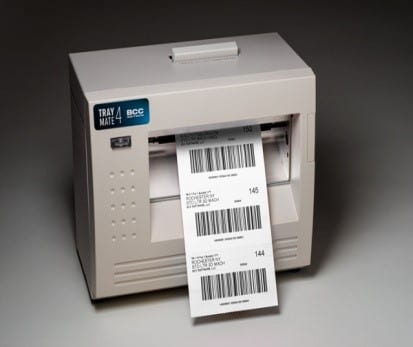 Thermal technology means no replacing ribbons or ink cartridges, plus consistent label quality